Commercial Food Photography is the photography that is used for marketing food for selling.
When creating food menus for a restaurant or any other food establishment, you will certainly need food photographs that induce an appetite to lure customers into ordering the dish or meal. This is when commercial food photography comes into play. You may engage commercial food photographers and food stylists to create mouth-watering photographs of your dishes and meals that will make your consumers drool, and your business or location prosper. 
What is Commercial Photography?
Said, commercial photography is a type of photography that makes images to produce money for the end-user. 
Purpose of Commercial Food Photography?
According to a recent survey, 45 percent of diners deliberately search for food photos on a restaurant's website before picking where to eat. When we look at younger diners, especially Gen Z and Millennials, this number rises. Food photography is one of the most potent tools brands have at their disposal when it comes to advertising in this day and age. It can be a deciding factor in gaining new clients when handled appropriately.
Restaurants, food corners, online food stores or food delivery services like Swiggy and Zomato rely on commercial food photography because what appears tasty sells well. The clients of a commercial food photographer would want their dishes to look delicious on the picture present on their website, outlet banner, pamphlets, menu card, etc. Commercial food photography is a powerful pillar for most food companies, brands, restaurants, or food services.
Commercial Food Photography is a subcategory of a commercial photographer whose work appears in commercials, periodicals, packaging, menus, and cookbooks. An art director, a photographer, a food stylist, a prop stylist, and their helpers are frequently involved in professional food photography.
Food photography is frequently – and sometimes controversially – used in advertising to emphasize the attractiveness or size of advertised foods, particularly fast food.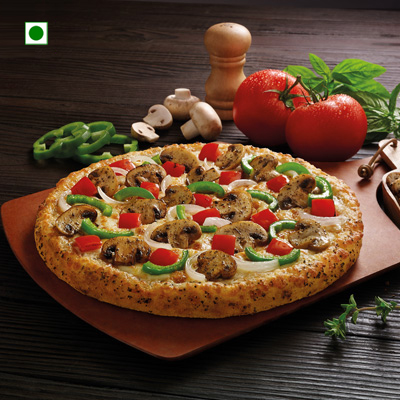 Picture Courtesy: – Jubilant FoodWorks 
Like all other types of photography, food photography has a variety of genres and levels, ranging from working with restaurants to shooting for McDonald's. In terms of aesthetics, the genre is undergoing a significant transformation, with a tendency toward more graphic and pop art-type photos, when previously, the more rustic look was very much in vogue.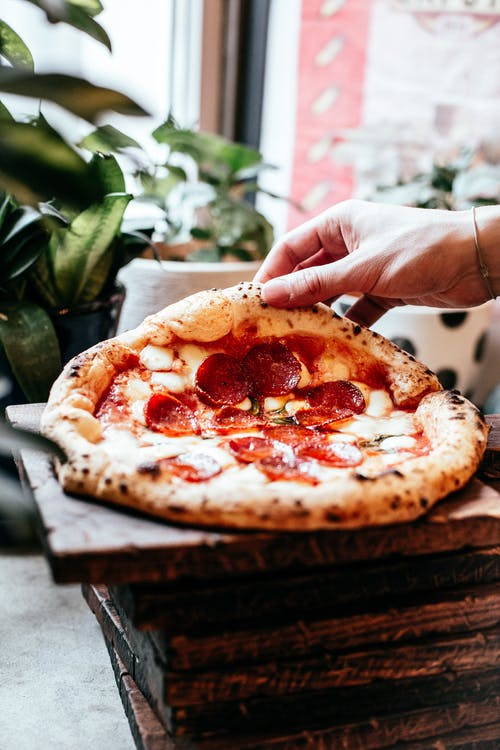 In this article, we will discuss the actual work of commercial food photographers and how they can become great professional commercial food photographers.
Who needs Commercial Food Photographers?
If you are a newbie in this genre of food photography, then you need to know who your target clients can be. You may not get many commercial food photography clients in your initial days; if such a thing happens with you, there is nothing to be worried about.
You can start with the local restaurants. You can DM on their Instagram or Facebook pages. Or, at the time, you may simply walk in and say, "Hey! Would you like to get some commercial food photographs for your store?"
Trust me; there is no space for shyness in the story.
There are a few exceptions; most brands have a marketing department that employs and collaborates with an advertising agency. The suits and creatives pitch to the brand, and once approved, the art buyer at the agency will ask the photographers' agents to create treatments for the project, after which they will request an estimate and determine whether or not to work with you. By the time I'm involved, the image's final design has usually been agreed upon, and they're just seeking the proper photographer to transform their vision into a reality.
How would you get work as a Commercial Food Photographer?
It will help if you promote yourself. Marketing is the key behind all the growing businesses. You can promote your food photography skill in the form of e-cards, physical postcards, website updates, and fresh image uploads to agents' websites.
You should have your Food Photography Website- You must have a food photography website if you are or want to become a commercial food photographer. This notion applies to all types of food photographers and not only commercial food photographers. It is no longer an option not to have a food photography portfolio website. 
It would help if you took advantage of Social Media- The way you present your originality as a commercial food photographer is crucial to your success. Publicizing on social media is great and necessary, but it needs a cherry on top. 
In social media, design, layouts, and branding are limited. The food photography portfolio website is required to exhibit your work in the best possible light and take full advantage of technology.
Use a combination of social media and your portfolio website to attract clients. Your social media network can help your website gain more visitors.
Create your Food Photography Tear Sheets- Create your food photography Tear Sheets. Tearsheets are proof that You have worked as a professional food photographer and were acknowledged professionally. Even if you start doing some sponsored posts, you should start making the tear sheets as well. This will open up more opportunities for you to get hired as a commercial food photographer. 
How do Commercial Food Photographers Shoot?
The number of photoshoots that take place each week varies greatly. We occasionally have nothing to do for a few weeks. We are sometimes so overworked that we work straight through the weekend, with overnight revisions for deliveries. It's something I've fought with for a long time, but now I know to take breaks when I can because the work can be exhausting.
Who is involved in Commercial Food Photography?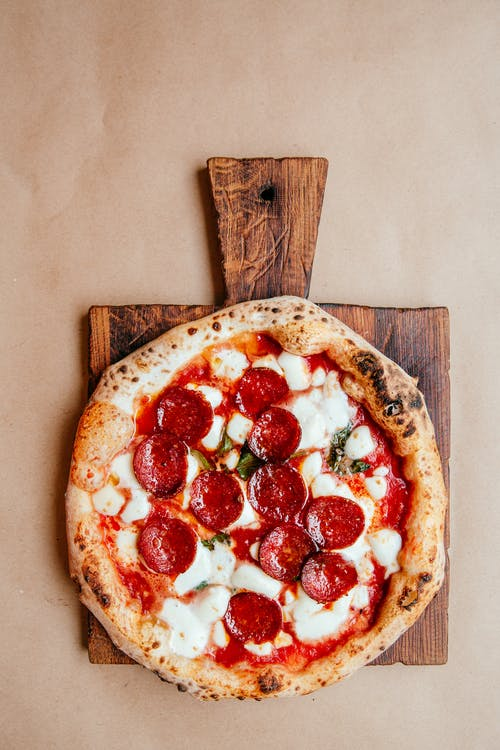 We usually work in groups during a food session, similar to how we do with fashion photography. The creative director and their crew would be present on set, usually providing sign-offs and, of course, creative direction. There will be someone for set building, prop styling, a food stylist, and sometimes an assistant (or perhaps a team of food stylists) depending on the delivery requirements and a home economist if there is a lot of prep and cooking. And that's pretty much how you must deal with the profession. It can be very sluggish at times, and at other times, it can be so intense that it becomes overwhelming – much like any other type of photography.
How much can you charge as a commercial Food Photographer?
If you are new to commercial food photography, you should measure your cost very carefully. You should be aware that if you charge more than the chances of getting hired would be lowered.
So, to start with, keep your price low to get more contracts, who will look into your price and not experience. However, this does not mean that you will work casually if someone pays you less. It would help if you delivered the job with equal efforts because one client would lead to another.
Once you get established as a commercial food photographer, you can surely put up your price list. 
The average cost of commercial food photography can be between Rs. 7500 to Rs. 25000+ per shoot in India. Or you may also charge on per hour basis, but that is only after you have done some shoots and gained experience.
Compared to small restaurants, there are fewer big jobs available, but there is also less competition, and you need to work significantly fewer days to make a good life. As with most genres, there are horses for courses.
Calculate your expenses, add your intended income, and divide that number by the number of sessions you want to complete in a year to determine how much you should charge.
What Camera Gears do you need for Commercial Food Photography?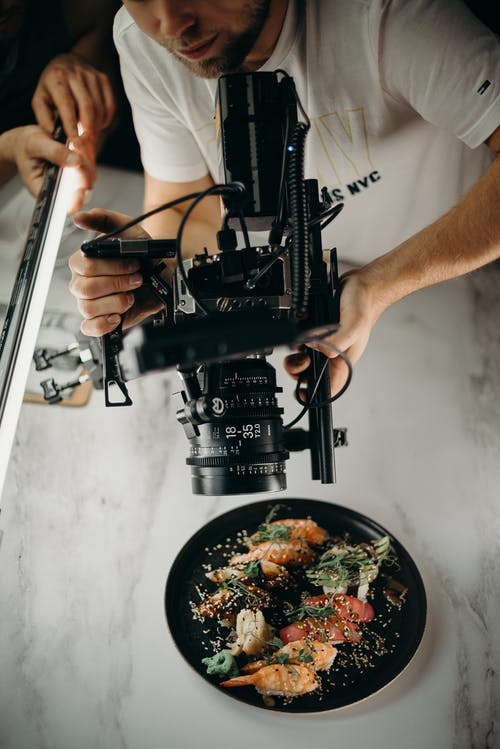 Great colors, excellent resolution, and stability are the major requirements for most of us regarding image quality. As a result, cameras with many focusing points and high frame rates or ISO capabilities are not in high demand. Instead, we would seek cameras with a high colour bit depth, 50-100 megapixels, and good rendition and colour reproduction lenses. If anything is moving, a fast pack with a high t0.1 score is quite useful, and most major brands provide these alternatives. If the environment is very static, we typically demand lights with at least 1,600 watts of electricity per head, as the way we adjust light can quickly deplete those watts. I usually work with a high-resolution camera. For example, you can use a Canon DSLR and Carl Zeiss optics with Broncolor lights, and you can also rent a Phase One system for large campaigns. However, due to their excellent optics, Hasselblad appears to be highly popular in the field.
Here we have discussed a lot about commercial food photography, and we have almost got an idea of how it is done and what things you should keep in mind if you are a newbie in the industry. So before ending this article, let us look into some of the great tips on doing commercial food photography. These tips have been exclusively curated by our team of professional commercial food photographers.
Some Commercial Food Photography Tips
Go Natural with Light- When natural light falls on your background or objects, it can make them as bright as or even brighter than your topic. Because the spectator will always look at the brightest place in your shot first, it can detract from the entire story if it isn't your subject. You can use your black cards to keep light away from areas where your subject will compete. This is also an important technique for achieving a darker, low-key look in images. 
Do not ignore the artificial lights- Everywhere, you may not get the natural lights, especially in warm-lit restaurants or in the night shoot. You have two options here- either you can either use the dark light and bring out a dark theme food photography, only if it matches your dish. Or you can use artificial lights. 
Bring in some action- The food has been heavily edited. Photographs would make the cuisine appear phony, and the food's authenticity would be compromised. As much as is required, provide it. 
Try to induce Story Telling- Try to set up your dish in the form of a story. Not the story of fairies or demons but the story through the spoons, spices, and ingredients. 
Be fast- When it comes to food photography, you must be quick. Chefs are always quick, so they can put together whatever you need in a matter of minutes. As a result, you must be quick to catch up with them. Furthermore, if you are shooting in a restaurant during peak hours, it won't be easy to keep the location, chef, and crew occupied for an extended period. You cannot leave the meal unattended any longer. You must shoot with the smoke if you are shooting a hot item. This also applies to cold beverages like ice cream. 
Less Editing- In Lightroom, make only a few changes. There should not be much that has to be done if the shot has been well set up. 
That is all that you need to know about Commercial food Photography. 
For more interesting tips on Food Photography, please visit our website: Food Photography in Mumbai 
If you need further tips or wish to learn more about commercial food photography, give us a call or leave a mail.